About Us
We at UAL offer creative eco-sustainable solutions that stem from the synthesis of Bio-innovation, technology & processes, application expertise, knowledge of markets and insights into how events and trends may shape the future.
The seamless amalgamation of imagination, insight and knowledge is at work for delivering bio-solutions for targeted industries.
Our Bio-solutions eliminate the use of harmful chemicals and antibiotics & empower our customers. In essence our Eco-Sustainable solutions " REDEFINE ADVANTAGE " to our customers.
Vision, Mission, Core Values
The strategic Vision of UAL is to be among the most admired global organizations by providing eco-sustainable bio-solutions for our target sectors through innovation, imagination and differentiated customer service.
Our Mission is to enable "Clean Environment and Affordable, Safe Organic food for all.
UAL will strive to deliver this by internalizing and demonstrating a set of core values that would transcend cultural, racial or ethnic barriers.
The following principles constantly guide UAL's internal conduct as well as its relationship with the external world: commitment to innovation, harnessing teamwork, striving for quality and continual improvement, practicing integrity, aligning words with our actions, being accountable for our actions and acting as a good global corporate citizen.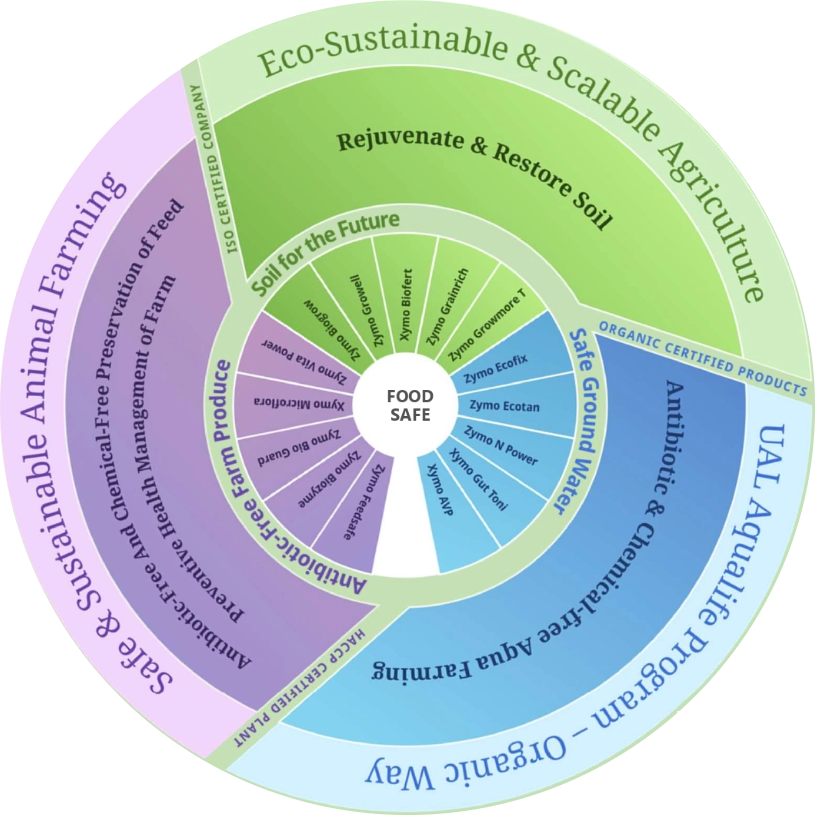 The UAL Approach
UAL strives to continuously innovate by developing new technologies that enable sustainability to have a positive impact to all stakeholders, thus redefining business advantage of its direct customers, promote an inclusive and cordial workplace filled with passion and purpose for its employees and lastly, create affordable sustainable choices for society at large while ensuring good returns to our investors and shareholders.
UAL manufactures organic bio-solutions that help its target sectors become eco-sustainable. In essence, UAL Bio-solutions eliminate the use of harmful chemicals and antibiotics from food sources, namely target segments Agriculture, Aquaculture and Animal Feed and Farm.
UAL has two manufacturing facilities in India and is ISO 9001:2015, ISO 14001:2015, ISO 45001:2018 & HACCP certified company. UAL markets the products under the brand names ZYMO® and XYMO® series. UAL products are certified Organic by INDOCERT & ECO-CERT.